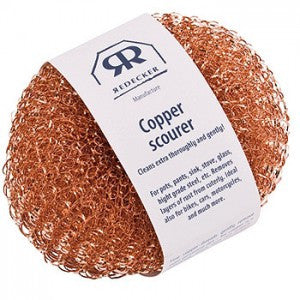 Copper Pot Scrubber Set
The soft, non-abrasive and antimicrobial qualities of copper make it an ideal cleaning aid. The fine copper threads loosen stubborn dirt and make cleaning pots, pans, sinks, ovens, ceramic cooktops, glasses, stainless steel, and may other surfaces a breeze. To be used in wet condition, not suitable for teflon or other non-stick surfaces. Set of two copper pot scrubbers. Made in the Netherlands by Bürstenhaus Redecker. 
Product Info
Made of woven copper fibre. Set of two.
Size
7.5 cm d
---
We Also Recommend